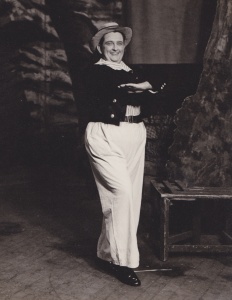 John joined SAOS in 1949 and before his untimely death in October 1985 appeared in 39 productions, playing a principal role in all but six of them. Ray Harris, who appeared alongside John in most of those shows, recently declared that he was 'the best tenor that the Society ever had.' Indeed, John played all the main G&S tenor leads available in the 36 years of his membership, notably Marco, Frederic, Nanki-Poo, Tolloller, Cyril, Fairfax, Ralph Rackstraw, Richard Dauntless and Captain Fitzbattleaxe – many of them two or three times.
John was a large man (his performing colleague reports that he weighed over 18 stone) and he certainly made an impact on the stage, it is very rare to find a review of one of his shows where he does not feature in a positive light. Perhaps the most memorable critique occurred in 1962 when the reporter was much taken by the size of the leading man, 'A butterball of a tenor by name of John Hoskins rolled on the stage with a cherubic smile, scared into his performance and the cast contracted his enthusiasm without realising it. Trial by Jury sped its modest way because of him.'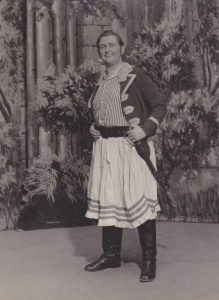 Some other typical reviews of John …
1955: 'Frederic (John Hoskins) brought a fine voice to a difficult part.'
1958: 'John Hoskins, as that wonderful character Cyril (a sort of Court Billy Bunter) is really good.'
1960: 'John Hoskins and Raymond Harris, sang with grand aplomb and acted in a wickedly satirical style as the royal republican rulers.'
1963: 'John Hoskins sang splendidly as the Pirate Apprentice.'
1964: 'Mr. Hoskins tenor is the best male voice in the cast.' 
1967: 'It took John Hoskins, as Colonel Fairfax, to inject some real life into the production half way through the first act. He is a most competent performer with a fine voice and has the advantage of being a veteran operatic singer.'
1972: 'John Hoskins' pleasant tenor, good stage presence and ready smile brings the wandering minstrel Nanki-Poo to life.' 
1984: 'John Hoskins, uses a wealth of experience in creating a commanding King Hildebrand.'
John was a popular member of the group but could also be quite stubborn, in 1978 he was very worried about plans to perform Carmen and refused to have anything to do with the project  complaining to the Committee that it would 'ruin the Society's  reputation.' John became the Society's Vice Chair in 1982 and at the time of his death was Chair of the Future of SAOS sub-committee – the group that later recommended the formation of a junior section.
Terry O'Farrell