Joining SOS
On stage or off?
If you come and watch one of our shows and think we are enjoying ourselves too much then it is because we are! Our mission is to provide opportunities for people to come together and create some great live theatre. We are always looking for new members to join us, both on and off stage, so if the idea appeals please get in touch. You could be watching our next show from a completely different angle.
We welcome both acting and non-acting members. Without help behind the scenes, we would not be able to keep producing quality shows. Non-acting members are accepted for a small annual subscription and enjoy all the benefits of membership. Acting members pay the same annual subscription plus extra show subscriptions for performing with us on stage following a joining audition. We generally rehearse on Wednesday evenings at Bitterne Park Sixth Form Theatre. If you're interested, contact us and arrange to come along.
Or, you could become a Friend of SOS.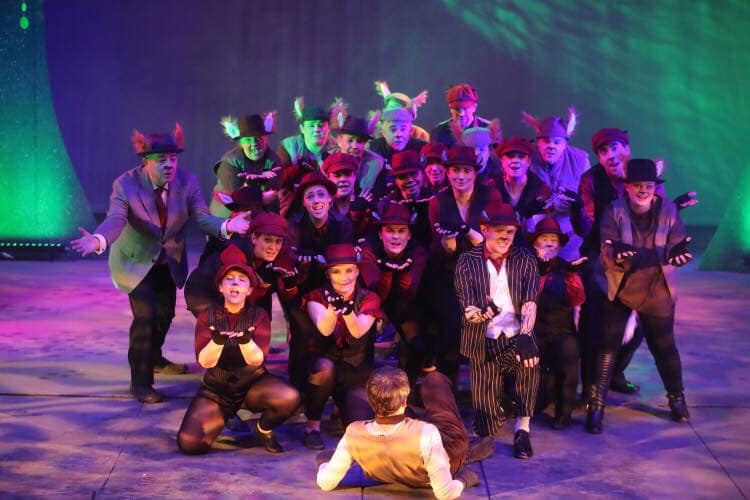 When do you perform?
We perform two shows per year, one at towards the end of January and the other at the end of June or beginning of July. We currently are using the amazing MAST Mayflower Studios as our performance space. After our summer show we then don't get back together until the September for our AGM.
When can I join you?
Our rehearsals start in September and then again in February with auditions within a few weeks of these dates. The dates do vary so get in touch shortly before then to ask for the exact times. After these times we will have set quite a lot of the show which makes catching up very difficult. We don't generally don't add members of the cast much later than that, but this is at the director's discretion.
Backstage crew and get in/get out help can join us at any point, although this team is usually put together later on in the rehearsal schedule.
Can I come and play in your band?
Each show has particular instrumental requirements so it will depend on which instrument you play. We only perform our shows  twice a year, although other opportunities may arise. As we are an amateur group we only offer an expenses payment to musicians. If you are interested please contact us using the button above.
Can I come and see a rehearsal before joining?
Yes you can. Please contact us and we can let you know of a suitable date.