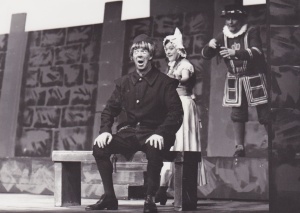 Dennis as Wilfred Shadbolt with Margaret Amey (Phoebe) in The Yeomen of the Guard (1982)
From its earliest days Southampton Operatic Society has been a society of rules. These can be found in the Members' Handbook but there are also the unofficial unwritten rules and there have been many of those over the years – the claim that new members must spend a show in the chorus before being considered for a principal part is perhaps the best known.
When Dennis Gooch joined SAOS in 1965 this 'unwritten policy' was strictly adhered to so it must have come as a surprise to everyone when the auditioning panel gave him the part of the Mikado! Indeed, the committee wrote to the directing team of Bert Clague and D Cecil Williams reprimanding them for ignoring the rule.
Dennis was obviously a great success in his debut SAOS performance and went on to perform in 25 shows before retiring in 1985 (22 as a principal). He also served as the group's Treasurer from 1970 to 1983 and was less than impressed when a show lost money – in 1982 the Patience principals found themselves rehearsing in their homes whenever possible in an attempt to save money.
Dennis' performing record for the Society:
1966 – The Mikado of Japan in The Mikado
1967 – Sergeant Meryll in The Yeomen of the Guard 
1968 – Giuseppe Palmieri in The Gondoliers
1969 – Florian in Princess Ida
1970 – King Paramount the First in Utopia Limited
1971 – Dick Deadeye in HMS Pinafore
1972 – Pooh-Bah in The Mikado
1973 – Sir Despard Murgatroyd in Ruddigore
1974 – Mars in Orpheus in the Underworld
1975 – Wilfred Shadbolt in The Yeomen of the Guard
1976 – Sir Marmaduke Pointdextre in The Sorcerer
1977 – Giuseppe Palmieri in The Gondoliers
1978 – Chorus in Carmen
1979 – The Pirate King in The Pirates of Penzance
1980 – Private Willis in Iolanthe
1980 – Dick Deadeye in HMS Pinafore
1981 – Marcel in La Vie Parisienne
1981 – Sir Despard Murgatroyd in Ruddigore
1982 – Chorus in Patience
1982 – Wilfred Shadbolt in The Yeomen of the Guard
1983 – Pooh-Bah in The Mikado
1983 – Puh-Bah in Der Mikado
1983 – Sergeant of Police in The Pirates of Penzance
1984 – Arac in Princess Ida
1985 – Chorus in Die Fledermaus
Sadly Dennis retired before SOS shows were routinely filmed but there are many newspaper reviews to illustrate that he was, without doubt, an exceptionally talented performer.
Some sample press reviews…
Newcomer Dennis Gooch, as the Mikado, showed that the society has another rich voice to call upon. 
The gondoliers, Marco and Giuseppe, were played with verve and obvious enjoyment by John Hoskins and Dennis Gooch and their vitality was matched by their spouses Jill Meager (Gianetta) and Pamela Hoskins (Tessa).
There are also lively performances from John Hoskins and Dennis Gooch as Hilarion's friends 
Dennis Gooch also impressed as King Paramount, strong of voice and light of dance-step
Pooh-Bah, is a difficult part to play but Dennis Gooch has obviously given deep thought to the characterisation. 
Pamela Hoskins brought Phoebe, the Yeoman's daughter, to life with natural acting and singing, and was well complemented by head jailor Wilfred Shadbolt, performed by bass Dennis Gooch with a fine sense of theatre.
There was no difficulty in hearing Dennis Gooch who, as Private Willis, added a third and topical verse to his song.
John Hoskins (Captain Corcoran) and Dennis Gooch (a splendidly grisly Dick Deadeye) had found their perfect roles.
Dennis Gooch as her foil, Shadbolt, was grossly unprepossessing and preposterous. 
Other outstanding characters in this tuneful extravaganza were Dennis Gooch as Pooh-Bah… 
Dennis Gooch made an admirable forceful Sergeant of Police.
The warrior sons of Gama, Dennis Gooch, John Whale and Peter Hill sang out strongly and it was a joy to hear their resonant tones.
After retiring from the stage Dennis could be seen regularly at the SOS Juniors' shows where his daughter, Wendy South, was the long standing Director. He also attended the concert organised to celebrate the group's 90th Anniversary and couldn't resist joining the performers on stage for a final rousing rendition of 'Hail Poetry'.
Terry O'Farrell