For thirty four years, Colin Sly was a very important figure in SOS. He joined on moving into the area in 1976 and was an acting member right up to suffering a fatal heart attack in 2010 – it is very unlikely that he would have ever actually retired from performing!
Colin performed in 51 productions and played a principal role in 40 of them and, on those occasions when he was cast in the chorus, he took part with good grace. He was blessed with an amazingly powerful voice and was an automatic choice for roles such as the Mikado, Sir Roderic Murgatroyd or Sir Marmaduke Pointdextre but, in his earlier years, was equally at home as Strephon, Grosvenor or Giuseppe Palmieri – in 1995 he even excelled as the Duchess of Plaza-Toro (see photo below – centre)!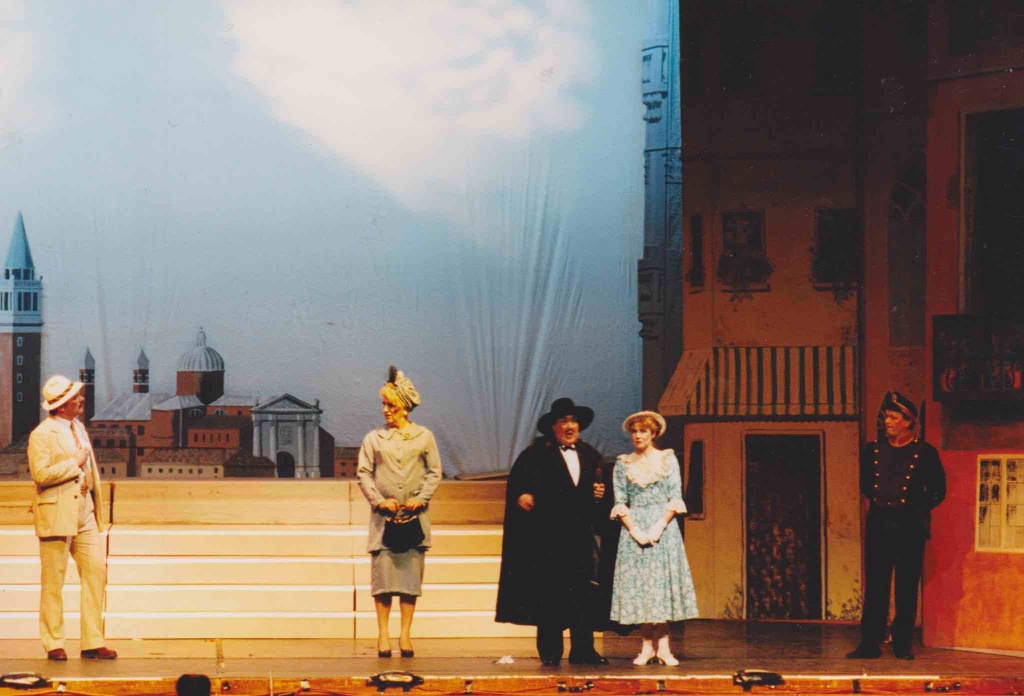 A reviewer from 1980 wrote, Strephon, played by Colin Sly, was a fine bucolic figure redolent of an outdoor life, with a powerful, melodious voice to match, and he played with charm, personality and good humour, dominating the stage whenever he was on, and convincing in his portrayal as Phyllis' lover – he was able to get his comedy over with little difficulty.
It's a review that could have been written about any one of his principal parts for the Society and, if the writer thought that his comedy was good, then he should have seen his last ever performance as Senex, the philandering Roman senator, in A Funny Thing Happened on the Way to the Forum, where he showed that he wasn't just a magnificent singer but also a master of comedic delivery and timing.
Some examples of his singing and acting in later shows can be found on sotonopera's YouTube channel:
A list of all Colin's performances is on this website.
Backstage Colin was enthusiastic, lively, argumentative, mischievous and funny – a larger than life figure in the dressing room; when the gondoliers found their glasses miraculously filled with beer during the party in act 2, there could only have been one person responsible! Perhaps his most notable attribute was his unique way of chatting to newcomers of both the Seniors and Juniors and making them feel welcome, always with a laugh and word of encouragement.
He fell in love with the operettas of G&S when appearing in a production of HMS Pinafore as a schoolboy at Weymouth Grammar School and was determined to appear in all of them, an ambition that he nearly achieved having been cast as King Paramount in Utopia Limited, the show to 'complete his set', a few days before his death.
Colin made a big contribution to SOS off stage, serving as Treasurer (1983-86) and Vice-Chairman (1986-90) before being made a Life Member in 2001. He also did much on the social side of society life, arranging evening cricket matches at Southern Water (where he worked) followed by a barbecue. However, his greatest impact must be associated with the formation and running of the Junior Section in 1987.
Pam de Grouchy (then Hoskins) and he organised a group of members to give 'master-classes' and performances at several local schools and then auditioned those interested to perform The Mikado at the Avenue Hall in 1988. Colin was the Chairman of the group from those early days until 2010 and was responsible not only for 43 productions but also for giving hundreds of children the opportunity to enjoy what he enjoyed – appearing on stage, singing and entertaining others.